Introduction
---
We have started developing GoldTrade (standard version) since 1997 and have been successfully implemented in trading, retail, manufacturing and service business setups locally. In order to cope with the advancement of software development and the change of needs of customers, we have re-engineered and rewrite GoldTrade. We employ the latest development platform and the most advanced technologies.
3-Tier Application Model implies more stable, more secure, and faster operations (work load is shared among client, application and database servers), less communication cost and requires less bandwidth (remote sites using Internet access and run efficiently), cheaper (do not need terminal services licenses), increase data availability (remote offices can share online database, instant monitoring of business activities in remote offices), less cost to implement to other system clients (e.g., Web/PDA), highly scalable and flexible system expansion for additional transactional loadings (e.g., additional application servers).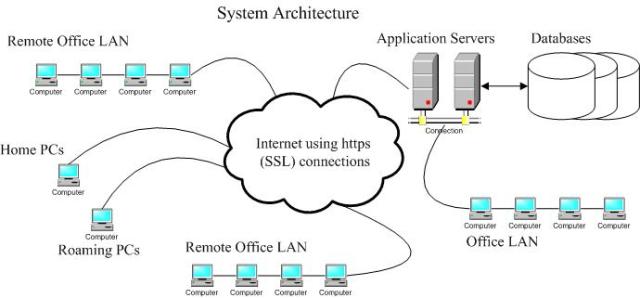 Smart Client Application gives faster overall system performance (than web-based clients), handles more complex business logics, more stable in slow network environments, provides more features like file upload / download, report preview and export etc.
Simplified Schematic